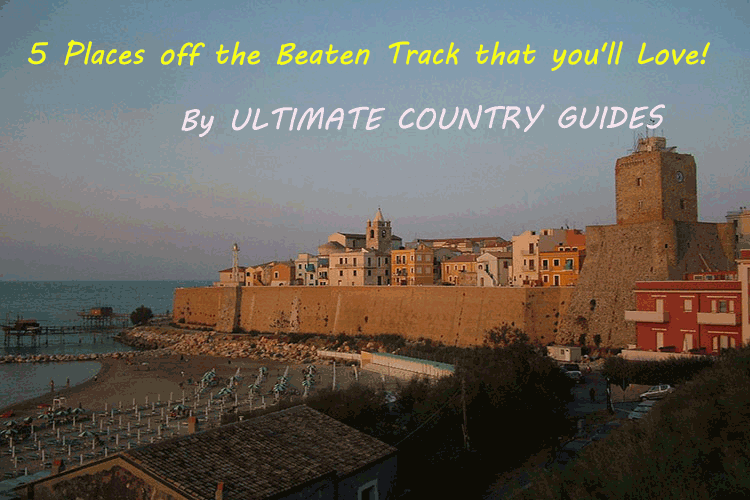 It's no easy task, trying to pick the least touristic place, off the beaten track destinations. Tourism in Italy is so important, even the unfamiliar hidden places can be extremely recognised nowadays.
Although Italy's Rome, Venice, Florence, Verona and other major cities are all really stunning, there are other places to go that you might not have heard of. We're all guilty of this, arriving in an area without knowing anything about it, and driving on to our next destination. So, relax, we got you covered. Here we have these 5 Beautiful spots that aren't so recognised for your next road trip. Let's take a plunge and discover these destinations together.
1.Rosignano Solvay – Marittimo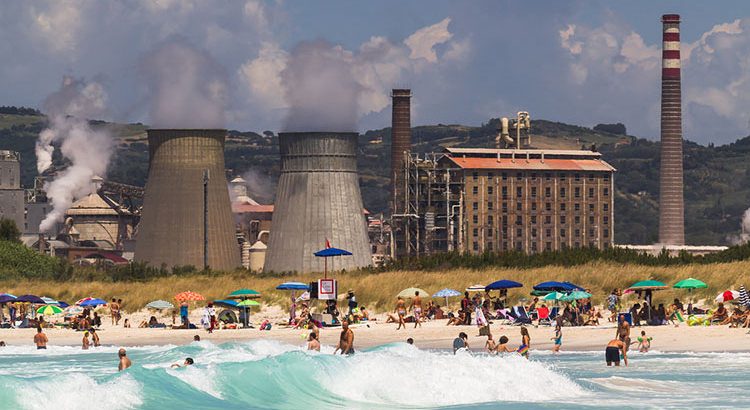 Located 25km from Livorno. Rosignano Marittimo houses the (Spiagge Bianche) which means white beaches. Most beaches you'll find in Italy are Mediterranean looking, dark blue waters, and coastal cliffs. But along the Western side of the country, this is a different story. The light turquoise sea and white sand give off an incredible look, but why? The beach appears to simulate a Caribbean setting, except there's no one offering cold drinks, along with snacks, and directly behind this glimmer of paradise huge smokestacks appear to plume outward into the sky.
This beach is unlikely to found in most guidebooks which is surprising due to its distinctive Caribbean looks, but those distinctive Caribbean looks have been altered by the Rosignano Sovay factory. The pristine looking waters and its shiny white sand have been created unintentionally. The factory produces sodium carbonate, which is used in anything from soaps, detergents, paper to glass. To produce this chemical the plant releases thousands of chemicals every year in the Mediterranean Sea. The discharge contains limestone and calcium chloride, which gives the water this tint and the sand it glisteningly looks. Home to Wind Surfing, sunbathing and local tourism, this place is the Caribbean for them. Go check this place out.
---
---
2.TERME DI SATURNIA: Spa of Saturnia – Maremma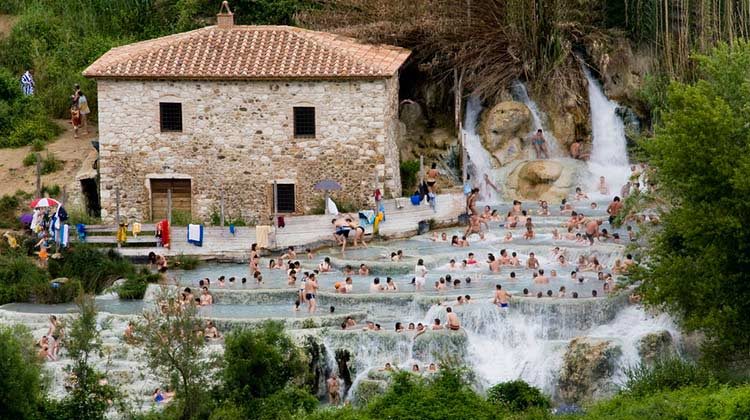 Legend says that these springs were created from a bolt of lightning Jupiter sent for Saturn, in a rage, but pounded Earth instead.
Personally, I'm addicted to Geothermal Waterfalls – natural baths, hot-springs – and this one along with its location, beautifully bubbles all year long. In the region of Maremma, there are gems to be found. Small quaint medieval towns that is set apart from the big thick green forests of Chestnuts and Olive Groves. Amongst these secluded towns renowned for their good taste in food and wine, one stands out from the rest, and that one is Saturnia. Just outside this town, you'll find the Waterfalls of the region. Gazing upon the pools of water traversing then melting down into rock beds you lay in is just insanely relaxing. The water always stays around 37 degrees, and is good all year round; even in those cold wintery days it goes to take a dip. The underground pushes up its sulphur along with other natural minerals and has been proven to cure miner conditions since the ageing of the Romans. Farther up the road lies a spa complex that is also quite renown by its popularity. Although the beautiful Spa with its man-made pool, surrounded by charming tiles can't hurt to visit. The Natural baths with its carved features etched into the surrounding rocks in our opinion is the best to experience.
---
---
3.Parco dei Mostri / The Park of Monsters – Bomarzo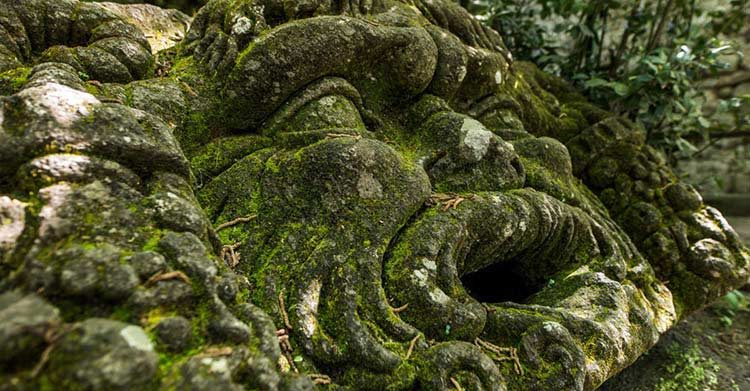 The park itself wasn't built to be glamorous or to please people, but rather the contrary. Architect Pirro Ligorio was contracted to build this park by Prince Pier Francesco Orsini. It was commissioned in 1552 as the Arco Dei Mostri which literally translates to park of monsters. This park was an expression of grief, after going through war, losing his best friend, captured for ransom and upon arriving home, losing his beloved. Pirro Ligorio was particularly famous for designing "Villa d'Este" in Tivoli near Rome. After Michelangelo's death, Pirro Ligorio took charge of the Saint Peter's Basilica construction. This 16th-century park of forgotten and shocking wonders awoke from slumber 400 years later. In 1954 Giovanni Bettini bought this park and provoked its awakening after its restoration. This park that Prince – also known as Vicino – created, really illustrates his troubled grief through the art form. This really is the world of myth and fantasies and there are around 38 statues in the park. With little meaning and order, it makes the park even more mysterious and eerie.
[Also Read : Offbeat places to visit in Italy]
4.Termoli and its historical Old Town – Molise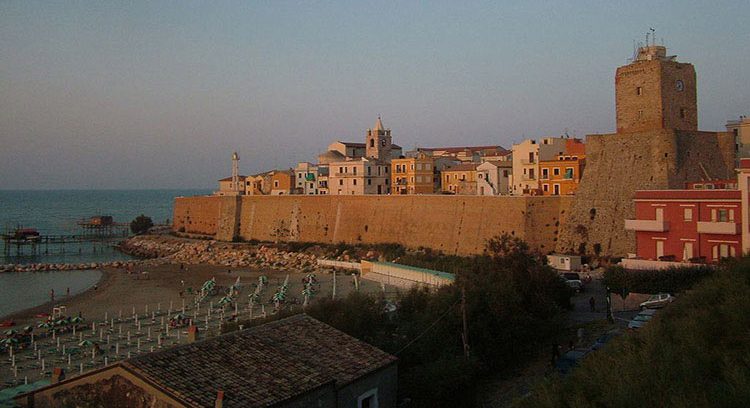 Termoli is certainly a treasure find. The first dates and signs of the city can be dated back as early as the 10th century. Originally known for being just a fishing town, nowadays Termoli enjoys visitors from all over the region and it's not surprising why. Termoli's historic Old Town was founded in the middle-ages and holds the charm of the city, the Cathedral. The main monuments of the town are considered to be the Cathedral, along with the Castle which was built by Fredrik || of Svevia. Who wanted the town to be fortified (thus adding the walls). As a tourist nowadays you have the chance to scour the Old Town, pass by the Cathedral, castle, and get lost in the pastel-coloured houses in between the narrow streets. In the new part, you have several places of interest on the main street: Corzo Nazionale – where the majority of high street shops and pubs are found. One of the most renowned places there is the famous Microbar, where you can go and try the local drinks on offer. Other popular places are Pozzo Dolce, which is a rather cool place to hang out. The Tremiti Islands are easily reachable from the harbour there. Interesting facts about the city: the Cathedral was set on fire and the majority of the Old city was destroyed after the invasion of the Turkish through WW2. The region's surrounding population suffered greatly, pushing more inhabitants in the direction of Termoli, nudging its status and becoming one of the tops in holiday destinations within the region. Termoli turned into a Fishing town and became the tourist spot it is today shortly afterwards.
5.The ancient town of Gradara – Marche
Gradara is a very nice medieval place that sits close by to Pesaro Urbino. Legend has it that The Demesne Fortress was the scene of a famous and grim love story regarding Paulo and Francesca. Caught in each other's arms and murdered by Gianciotto, Francesca's husband. It was largely famous and used by Dante in his Divine Comedy. This ancient city is regarded a gem amongst the region for its medieval walls and massive castle. Inside the museum lies armours, real scale reproductions of armies, torture and peasant objects – which greatly signifies and reflects on the lifestyle of Gradera, and the surrounding territory back then. There are also rumors of Tuff Caves around Gradara. Rampart's Walk is a 300m trail, that encompasses wide-angle views of the Romagna coast and scenic hills that descend into the distance. The Historic Museum and panoramic views from Rampart's Walk are just some of the things you can do here. Go find this place.
Although Italy still holds places in between its crevices of heritage. At least you can now mark 5 places off that you didn't know of.
For more country guides visit www.ultimatecountryguides.com
---
---