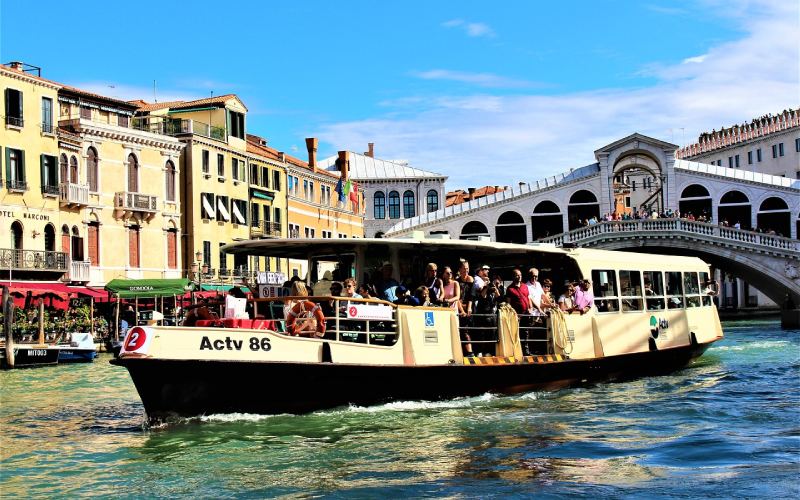 Italy ranks among the fantastic destinations packed with an enriching legacy and vibrant culture. The country boasts everything from the exceptionally well-preserved ruins of the Roman capital to the gorgeous grounds of Sicily and Sardinia, and strolling and exploring the boot-shaped peninsula. Hike up to a volcano, taste the amazing street foods, connect with locals, learn fascinating stories, take an unforgettable road trip, experience a classic gondola ride, enjoy a sailing tour, and much more.
There are so many unique and incredible things to do in Italy that visitors often get overwhelmed by the choices. With your Italy visit visa, you get to explore endless things and attractions that add up to a memorable journey. With all these features, Italy also features a well-connected and organised system of transport networks that connects the major hubs of the country.
However, if you are heading to offbeat Italian spots to visit, getting off the usual track can be a little tricky without a vehicle and some proper planning. But it is also good to know about public transportation, which can save money if you are tight on budget. So, we have curated a quick guide to travelling around Italy to help you navigate throughout the country.
Understanding the public transportation system
The diverse geography of Italy is hard to resist, but the snow-capped peaks rising above 4000 metres of sea level and expanding to the wild Mediterranean archipelagos don't allow for one mode of transport to get around the country. So, trains, buses, ferries, and ships help you reach your destination.
1. Getting around in Italy by Train
The train is probably one of the most convenient and best ways to explore Italy if your travel itinerary includes getting around major cities like Cinque Terre. The Italian railway network is extensive and easy to afford, as fast trains cover the long routes while slow and local trains connect smaller towns. But please bear in mind that not all regions in Italy are well served by a railway network.
Many of the trains in Italy are run and operated by Trenitalia (the national operator of Italy), and some of the high-velocity trains are privately run by Italo. The Italian railway system falls into three categories:
Regionale: cheapest and slowest trains connecting locals
InterCity: A faster system runs between major cities.
Alta Velocita: a high-velocity and modern system connecting major cities
2. Getting around in Italy by Bus
Buses are those that cover distances that trains can't. These travel between towns that are either too small or too remote. The public suburban buses are operated on a regional level, which means there is no specified website for purchasing tickets. Intercity buses, on the other hand, can be booked in advance at tobacconists and newsagents.
Long routes are usually owned by private companies like Flixbus, Itabus, Marinobus, and Marozzi. You can find them slower than trains, yet cheaper and the most economical transport system in the country, stretching to all corners of Italy. You can purchase tickets in advance through company websites or by contacting ticket offices.
3. Getting around in Italy: cars, bikes, and Vespa
Getting a private vehicle allows you to explore tourist attractions in Italy at your own pace and visit sights with limited means of transport. These are often excellent options for mountainous areas, islands, and rural areas where public transport is quite limited.
Driving by yourself will allow you to explore off-beaten tracks, take your time, and engulf yourself in the interior scenery of Italy as you admire the breathtaking views of the hills. You can find car-hire companies throughout the country, including pick-up and drop-off vehicles in the most popular cities. These operators include Europcar, Hertz, Italy by Car, and Avis, among others.
Rules you need to know before you drive in Italy
It is mandatory to wear seatbelts and helmets on all two-wheeled vehicles.
You must drive with your headlights on outside built-up areas and carry a warning triangle and fluorescent waistcoat in case of breakdown.
4. Getting around in Italy by local transport
While the major cities of Italy, such as Rome, Naples, and Milan, have extensive metro networks, Italy's towns offer cost-effective and efficient local bus services. In Venice, gondolas and water taxis are great forms of transportation. You can easily reach nearby locations and villages by local bus.
Taxis, on the other hand, can be found around train and bus stations. If you opt for a radio taxi by phone, please note that the metre will usually start running when you place your ride through call not when you are picked up. Make sure you ask in advance and learn about them.
5. A great way to see the countryside is by bicycle
Cycling has always been a popular activity and sport in Italy. In recent years, many sights have invested in building bike paths and trails, encouraging a sustainable and accessible mode of exploration for most visitors. The emergence of electric bikes has also contributed to enjoying visitors and ventures on two wheels.
The Dolomites and Alps, major tourist attractions in Italy, offer seamless routes for every level of traveller, while Liguria features flat and enjoyable paths running through most of the coast. Rome offers a 32-kilometre-long path for cyclists that runs along the Tiber River via the city centre.
Travel requirement guide in Italy
When planning your trip, always make sure to go through the travel requirements guide in Italy, as you will get a brief knowledge of what to take and carry. A few things to keep in mind while travelling are:
Obtain the right documents and make sure to verify them with the embassy or consulate of Italy, including your stay in the country.
Check the travel advisory prior to and right before your trip to Italy.
Keep a note on your luggage, as it might become your biggest hitch in travel. Take what is necessary and carry bags that can be easily handled.
Decide where you want to stay and how you will reach your destinations.
Plan a realistic itinerary, as you may often get diverted by endless things to do and see.
Dos and Don'ts in Italy
Do be conscious of your dress sense.
Do keep an eye on it and hand over your belongings.
Do remember to carry sufficient cash with you.
Don't forget to research the basics.
Don't disrespect their culture.
Don't forget to be careful on the streets.
These are some major dos and don'ts in Italy that will help you fit right in with the locals.
Italy invites millions of visitors every year, including celebrities who look to enjoy their vacation, forgetting their hustling routines. If you plan on visiting Italy or maybe any foreign country, doing basic research on its culture and its public transport network can contribute to the journey in several ways. Italy is packed with endless attractions and things to do while boasting stunning and diverse landscapes, adding to your list of unforgettable memories. So, this is everything you needed to know about the Italian public transport system. While in a dilemma, you can always do some typing on search engines and find your way through this gorgeous country.