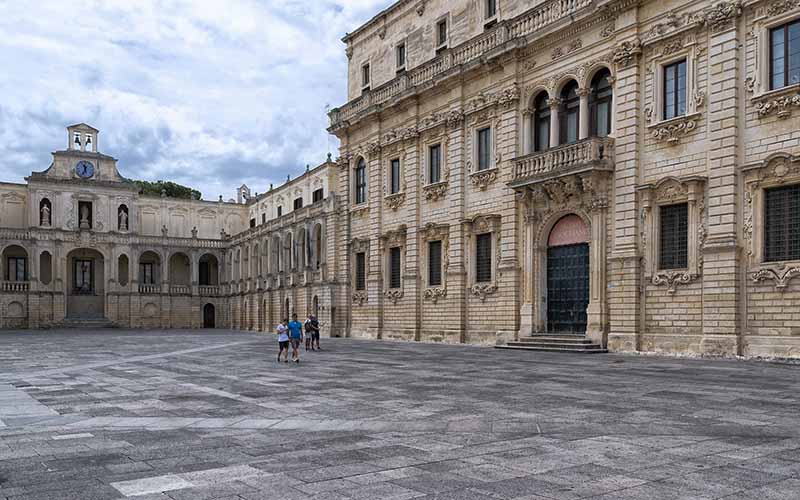 Lecce is a beautiful city in the Puglia region of Italy, placed at the bottom of the Italian Peninsula, that has plenty of indulgences to refresh all moods and tastes. Referred to as the "Florence of the South," Lecce continues to charm audiences with its excellent cuisine, amazing Baroque architecture, incredible natural vistas, refreshing destinations, and friendly locals. This ancient city has a history of over 2000 years, and there are stunning places to visit in Lecce, Italy, giving you a deeper insight into Lecce's culture and history. So get ready with your travel bags as we present the ultimate guide to the beautiful city of Lecce in Puglia.
Why should you visit Lecce, Puglia?
Lecce gives you a first-hand experience of Puglia's fascinating culture and history. The narrow street alleys within the historic old center will leave you awe-struct at its brilliance and magnificence. Lecce gives you a wonderful opportunity to slow down the pace of your fast-moving lifestyle while admiring and getting lost in the intricate sounds and sights of this beautiful, laid-back region. Then, stop over at a local café for an expresso or a local wine to make it an eventful exploration journey.
How to get to Lecce, Puglia?
The major ports and arrival cities near Lecce, Puglia are Brindisi and Bari, which are 40 km and 150 km north of Lecce, respectively. The resort towns of Gallipoli towards the west and Otranto towards the east coast are also 40 km away. Rome is a 6-hour drive or 600 km away from Lecce.
Flight and car
Salento Airport in Brindisi is the closest airport to Lecce. However, you will witness the best of Lecce sightseeing by renting a car and driving down to Lecce in a 30-minute ride. You can also drive down by Bari, a city which is a 2-hour drive away from Lecce.
Train
You will easily find direct trains from the city of Brindisi and Bari. The journey time from the respective cities is 30 minutes and 90 minutes. The train journey is convenient, user-friendly, and economical as well.
Weather in Lecce, Puglia
The temperature is warm, and the typical temperate Mediterranean climate brings in hot summers and rainy winters. The temperatures hover from a low of 4o-13oC in January to a high of 20o-32oC in August. August is very humid all month. Spring or the early summer months are perfect for visiting Lecce.
Best time to explore Lecce, Puglia
May, June, and September are the best time to explore Lecce, Puglia. The warm temperature with lower crowd intensity can help you easily relax and explore various destinations. An intense tourist crowd line up in Lecce during July and August, also the peak tourist season.
---
---
Planning your stay in Lecce, Puglia
Lecce, a relatively small city, can be easily covered in a day or two. However, if you have a week, you can explore the rest of Puglia and discover new aspects of the region's culture and history.
Best places to visit in Lecce
Anfiteatro, the Roman Amphitheatre
One of the best Lecce sightseeing sights in the Piazza Sant'oronzo is this grand Roman Amphitheatre built almost 2000 years ago but hidden until the 1900s. This amazing masterpiece is a true reflection of Lecce city's true nature and can easily hold up to 25,000 people across its two tiers at its prime. Thanks to several restoration efforts, you can get glimpses of its former glory. Today, several modern artists perform live performances all throughout the year.
Basilica di Santa Croce
Lecce is very popular in the region for its stylish Baroque-style designed buildings and structures. The Baroque Cathedral is a fine example of this architectural style. Starting from 1695, this cathedral was built over two centuries, where Lecce limestone was used to build this elegant masterpiece. The impressive façade features smooth white columns, sculptures, and intricate details about the region's history and culture.
The large rose window is one of the key highlights that will take you to a fantasy world. The interiors are equally ravishing and opulent as its exteriors with the gold-painted ceiling, grand white columns, beautiful painting collections, glass windows, and 17 altars.
Centro Storico
Placed in the heart of Lecce city, Centro Storico gives you a wonderful opportunity to kick off your adventures. You can easily stroll around browsing the narrow streets, cute shops, restaurants & cafes, and bars lining the streets. Exploring the little gems, indulge in some shopping in Lecce, Italy, as this place comes to life post sunset when the locals arrive post work to kick off a fun and interactive evening.
---
---
Church of Saint Irene
Another beautiful example of a Baroque-style church is the Chiesa di Sant'Irene/the Church of Saint Irene, built in the late 1500s and early 1600s. This church was home to the beloved saint of the city, Saint Irene. The stunning façade displays a statue of Saint Irene, an oak tree, and a she-wolf sculpture representing the Lecce city. The interiors feature 17th-century altarpieces and individual chapels. Being very close to the Piazza del Duomo and the Baroque Cathedral, you can plan to visit them in one go.
Piazza del Duomo
You will find it hard to avoid the irresistible charm of the Piazza del Duomo that is placed in the heart of the Lecce's old historic town. Browse through the city's architectural masterpieces during your exploration journey. Each structure or building here has intricate details of Baroque architecture. An iconic highlight is the bishop's residence, Lecce Bell Tower, and the Palace of Seminary.
Shopping in Lecce Italy
You will not find high or luxury brands while shopping in Lecce, Italy. Lecce provides several options to fulfill your shopping desires, but it is more about local brands. Some top destinations to indulge in some shopping experiences are Artefatto L'Idea in Terracotta, Ijo' Design, Liberrima, Maria Paola Barretta, Punto Verde Vivai, and Re di Quadri.
Best hotels to stay in Lecce, Puglia
You will find numerous places to stay in Lecce, Puglia, but we suggest staying at the La Fiermontina Hotel to explore the historical aspects of the city and Grand Hotel di Lecce to explore all the action within the city.
La Fiorentina
This traditional family home has been transformed into a small and luxurious hotel. This hotel gives you a wonderful sense of the historic Lecce town. It's well-connected and not very far from the Lecce railway station and the charming Piazza Del Duomo. Being a typical ancient family home, you will see a lot of stone arches and intricate details to catch your curiosity.
Grand Hotel Di Lecce
This is a mid-range hotel placed 10 minutes from the historic old town and 200 meters from the Lecce railway station. Few places will give their in-house guests a grandeur stay than this hotel. The Art Nouveau building features classic ornate details and a charming décor for a comfortable stay.