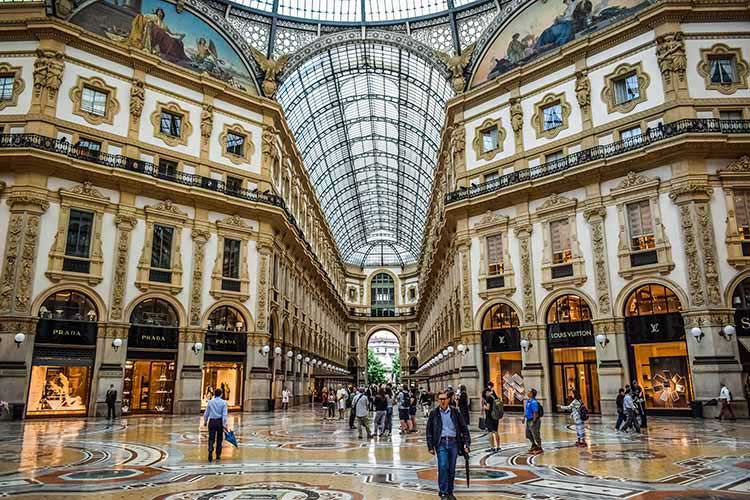 Milan is known as one of the best fashion capitals of the world. It is the most populated metropolitan area in Italy. As it is located in the mainland Italy, it has widely developed from the past years.
Most of the people travel to Milan for visiting its historical architecture, high end fashion retailers, modern high rise skyscrapers, Monumental Cemetery, The Last Supper, and so on. There are many other famous tourists' attractions that make the city attractive for people all around the world. The city was damages During WW2 but it has recovered with a vast economic boom that is responsible for its expansion and growth. During travel to Italy most of the tourists do not know on what to do in Milan but when you are there you will surely be amazed to see its beauty and end up visiting most of the Milan tourist attractions.
1.Things to do in Milan
There are so many things you can do in Milan. Visiting these top tourists attractions will keep you stunned and surprised by their beauty.
2.Top Tourist Attractions
1.Milan Cathedral
Milan Cathedral is the famous monumental building in Milan with best architecture that took over 600 years to complete. It is situated in the center of the city and is named as Piazza del Duomo. The cathedral was built in 1386 but officially got completed in 1965. The front façade is styled in Italian Gothic style that is magnificent and is crowned with statues, towers, and decoration. The interior has beautiful stained glass windows with beautiful colors. The space between the central columns has a display of fantastic artwork and some neatly detailed statues. The interiors are as beautiful as the exterior of this monument. Include this in your list of Milan sightseeing and get stunned with its beauty.
2.Visit the Most Famous Castle : Castello Sforzesco
Castello Sforzesco is the 15th century castle that is located in the central part of Milan, which is set in the extensive gardens and grounds. It was created in 1370 and the original design has been modified but the status of power and elegance has been well retained in the castle. At the front side of the castle stands a brick wall that is lined with frame by a central guard tower and battlements. As you enter the central part of the courtyard, you can see a large guard towers as well as the sheer size of castle that will surely mesmerize you. Besides the castle, there are many small museums and collection that has a myriad of historical information about Milan and the castle.
---
---
3.Gothic Style Church : Church of Santa Maria delle Grazie
This church was created in 1497 with Gothic style by using red bricks and a basilica. Though, this church is not renowned, but it has the specific grace and charm. It is based on the Corso Magenta and lies opposite of Milan to the Duomo. Inside the building you can see a great artistic masterpiece in the world, The Last Supper by Leonardo di Vinci. Described as the sublime piece of artwork, this mural depicts the scene of the Last Supper that is described in the Bible. Add this in your list of tourist destinations in Milan to have a splendid tour.
3.Shopping
Shopping is one of the best thing you can treat yourself with in Milan. With so many brands and best stylish garments, you are going to fall in love with each and every style that Milan is going to offer you.
Also Read -> Shopping Desires in Italy
Shopping in Grand Gallery
This Grand Gallery is huge and attractive due to its structure. When you enter the Gallery, you might think that you are stood inside the entrance hall of an opera house or a huge palace, but actually it is a shopping mall. This is what it is famous for: a huge extravagant indoor shopping place. It was created in 1877 and is known as the oldest shopping mall in the world, which is designed by Guiseppe Mengoni. It is a cross shaped wall that is covered by four class paneled arms that allows the entry of sunlight in a perfect way. Most of the shops are decorated with ornate paneling and beautiful stucco artwork that makes it attractive for tourists. You may find many high designer shops with best brands in the world that makes it the best place in the world for all shopaholic people. Do not even think about bargaining while you visit Milan!
---
---
4.Dinning
Dinning is again one of the best things you can do in this city. Take your group of friends for the best drinks and food and enjoy the lively vibes of Milan
Aperitivo
The dining experience of Milan is simply incredible. Ossobuco and risotto alla Milanese are the signature dishes of the city. Aperitivo is a practice of enjoying a drink with friends or colleagues in dinner are best in the city. Best bars usually are overcrowded with a friendly atmosphere. Usually buffets are laid down with best Italian cuisines and with to enjoy. Drinks are expensive but buffets are free, which is a treat for most of the travelers. Drinks like Cocktails and wines are favorites of people in the city. Do try their different Italian cuisines that are famous worldwide.
Do check out for climate changes once your Italy visa from Dubai is granted. Bag your bags and get ready to explore beautiful Italy and shortlist destinations on what to see in Milan.
---
---