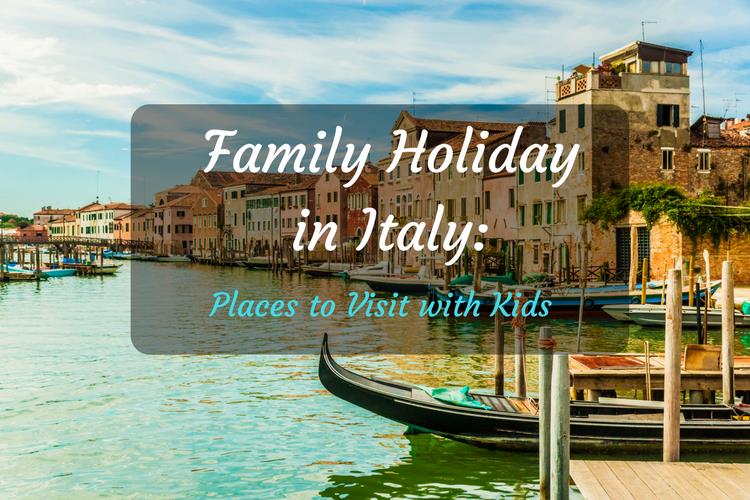 Italy, with its architecture, history, art and unique culture and lifestyle, is one of the most sought-after holiday destinations in the world.
However, most people postpone their holiday to Italy if they have little kids. When it comes to kids, most people go for places that have less of sightseeing and more of malls, adventure and theme parks. While these are important to have fun, Italy gives you the opportunity to educate your kids about history and culture while still having lot of fun. To make sure that your kids have a good time in Italy, involve them in the planning process. Tell them about the places you are planning to visit. Get them to read books on Italy for children. When they know about what they are going to see and do, they would definitely be excited on your Italian holiday. On that note, let us take a look at the interesting and fun places to visit with kids in Italy.
Italy Family Destinations:
1.Rome
Rome is a city built thousands of years ago and has a history to go with it. A trip to Rome, the capital city of Italy, is best to give your kids lessons in history. As there are so many museums and ancient ruins to visit, here are a few things that you should not miss. The Colosseum is something that kids would be interested in. It is best to go for a guided tour to know in detail about the impressive stadium. Kids would be particularly interested to know about the subterranean caverns where wild beasts like lions, leopards, bears and elephants used for wars were held.
While in Rome, you have to take time to visit the Vatican Museums. The St. Peter's Basilica & Dome and Sistine Chapel are places you must definitely not miss. Apart from this, The Pantheon, San Clemente Church, Catacomb of St. Callisto and St. Sebastian, etc. are some of the places that would attract kids. On the other hand, if your kids are bored of sightseeing and museum hopping, head to the Borghese Gardens where you can pedal a boat on the lake, explore the garden on a bike and also visit the zoo. Plus, take out time to visit the Trevi Fountain and toss a penny in the water to ensure you return to Rome someday (as the tradition and belief goes). One thing you must definitely not miss when in Rome is to try the gelato which is the Italian version of ice cream. If the monuments and museums do not engage your kids, the gelato is something that would keep them interested in Rome.
---
---
2.Venice
Venice is one city in Italy that kids would love specially because of the beautiful colours of the buildings and the fact that this quirky city has no roads but only canals. So, sightseeing is done in water buses, gondolas, water taxis and boats, making it really unique and interesting for the kids. The first thing you need to do when you reach Venice is to take a tour of the grand canal on a vaporetto which is actually a water bus and the city's public transportation system. You can get a good look at the entire city, right from Piazza Roman to Piazza San Marco. Keep your eyes peeled for luxurious palaces, piazzas, museums and churches.
St. Mark's Church should definitely be on your list to enjoy the beautiful interiors of the church and also to climb the stairs from the atrium and take a look at the amazing view of St. Mark's Square from the top. You must also take the chance to tour some of the palaces of the city. Ca' D'oro and Ca' Rezzonico are two palaces that children would love to know and understand the glory of the late Middle Ages. Apart from this, you can go on a treasure hunt, take a gondola ride, go to a concert and have a picnic in the Giardini Pubblici while visiting Venice. If you want to be away from the city crowd and enjoy some sun and sand, head to Lido which is also Venice's first beach resort.
Also Read -> Best day trips from Venice
3.Florence
Most people travelling to Italy with their families tend to skip Florence because it is an artistic and history rich city which could be a little boring for kids. However, this is not completely true. With some planning, you could definitely have a kid-friendly holiday in Florence. The best part about this city is that it is smaller and all major landmarks and sightseeing locations are at a walking distance. There are also several interesting museums here but not all are places that kids would be interested in. However, some museums offer educational tours and sessions for kids. Some of the museums you must visit with your kids in Florence are Museum of Palazzo Vecchio, The Loonardo Da Vinci Museum, The Stibbert Museum, The Galileo Museum and The Natural History Museum. When your children are tired of sightseeing and museum-hopping, take them to Piazza della Repubblica where they can have a fun time riding the antique carousel.
While children would like the historical buildings and the cobbled stones of Florence, they would also love to run in the open air and take time to have a picnic at the Boboli Gardens. San Lorenzo Market is a place you must take your kids so that they can experience a traditional Florentine market. Another way of spending some quality time with your kids in Florence is taking cooking classes where your family can learn the art of Tuscan cooking. Apart from this, you must remember that Florence is where the gelato was invented and so doing enjoy great gelato flavours while sightseeing in the city.
Related Post : Things to do in Florence
4.Umbria
When your family, especially your kids, want to take a break away from the crowded Italian cities and the museums and piazzas, Umbria is the place you must visit. Complete with dense forests and hill towns that look right from the medieval period, Umbria is where you can relax and unwind. It is the place that inspired C.S. Lewis' Narnia. There are several parks in Umbria where children would have a good time. Some of these include Mount Sibiline National park, Mount Cucci Regional Park and Mount Subasio Park. While these are beautiful parks, children can have lot of fun while horse riding, donkey riding, go-karting, mountain biking, rollerblading, etc. Other than this, Umbria is home to several castles. You can spend an entire day exploring a castle something that kids would love. The Rocca Maggiore in Assisi is something you should explore. The view from the hill top where is the castle is located is truly breathtaking.
Umbria offers several day courses that families can enrol in. While you are not exploring the beautiful hill sides of Umbria, you can learn to make ravioli or some delectable chocolate desserts. Apart from this, take your kids to the Aquapark di Tavernelle for some amazing water park fun. Some other places that children would find exciting at Umbria are Osteria di Pinocchio (a Pinocchio theme restaurant specially for children), Citta Della Domenica Nature Park, Marmore Waterfall and Lake Trasimeno.
Italy may seem to be really daunting if you are thinking of a holiday with children to this extremely beautiful European country. However, if you want your children to have a historically and culturally rich vacation, this is a place that tops the list. Before you plan your Italian holiday, you need to apply for Italy visa from Dubai, Abu Dhabi, Sharjah or any other emirate of UAE. Once you have done this, there are plenty of Italy holiday destinations that cater to both adults and children to choose from.
---
---