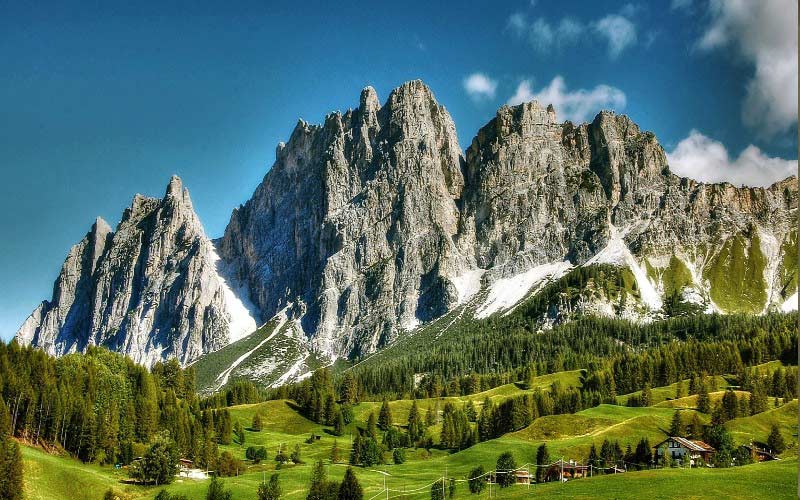 Italian vacations are synonymous with sun-kissed Mediterranean beaches, charming Renaissance towns, and the freshest Italian food and wine. It's the perfect spot to enjoy the perfect life. However, Italy is also a stellar destination for adventure lovers, especially for its winter sports. For adventure enthusiasts, the mighty peaks of Northern Italy are an allure that is not easily overcome by the long Mediterranean coastline and sea towns. There are fantastic slopes sheathed in powdery white snow in Italy, which is why it is a renowned ski resort destination. So, if you are looking for an Italian holiday with adrenaline rushes, book a spot at one of these top
Cervinia
Located in northwest Italy's Valle d'Aosta region, this resort boasts beautifully snow-capped mountains. The alpine landscape extends into Switzerland, Zermatt, Rosa, and Ventina Glaciers. Cervinia has the distinction of being among Europe's highest slopes with a top height of 3883 meters. Because it is located along the Italian border of the Matterhorn, Cervinia provides spectacular views of the Matterhorn peak. Located at such a height, it also provides fresh snowy slopes all year, making it a place to enjoy the best skiing in Italy. Since the slopes of Zermatt in Switzerland intertwine with those of Matterhorn, the area is called Matterhorn Ski Paradise – one of the world's most gorgeous and largest ski resorts. There are options for both beginners and professionals here, and the alpine views are some of the best that Italy has to offer. In addition, it is much less expensive than Zermatt, making it a better alternative for a budget-conscious traveller.
Cortina d'Ampezzo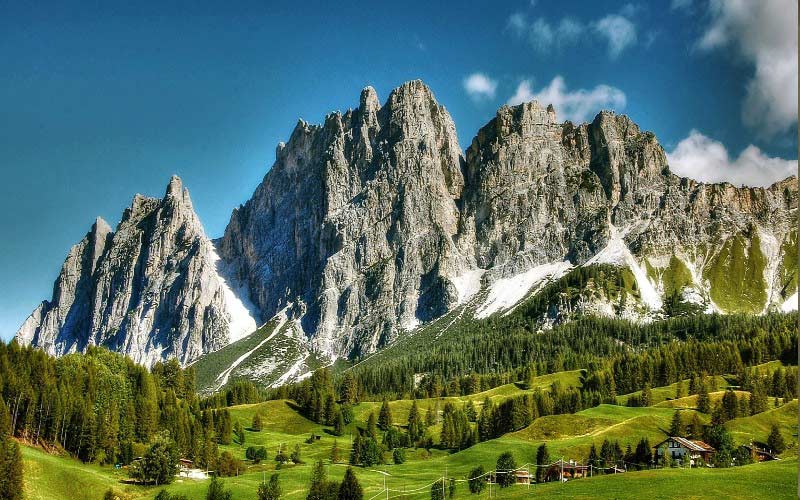 With its location in the heart of the Dolomites, Cortina d'Ampezzo is one of the most prestigious Italian ski resorts, where it is possible to ski on the most perfectly groomed slopes. If you are an avid skier, you would love the challenge of tree skiing here. Amidst the majestic dolomites, the scenery is breathtakingly dramatic. The cable car ride is a great way to enjoy the snowy slopes and mountain scenery. With its wide range of winter and summer skiing and snow sports, it is undoubtedly one of the best places to ski in Italy These alpine resorts are also well known for their après-ski experiences and dining scene. The accommodations as also quite charmingly countryside and range from farmhouses, mountain huts to chic hotels at your disposal.
---
---
Livigno
Another gorgeous ski resort located at the Swiss-Italian border, Livigno is known for its pristine snowy ambience. This high-altitude town at Sondrio along the Alta Valtellina mountains has some of the most magnificent pistes above 2500 metres. It is an Italian ski destination that has some deep snows and skiing trails that excite skiers as well as snowboarders. It is one of the best ski resorts in Italy for freeride off-piste experiences and has something suitable for novice, amateurs, and expert skiers. The township is amazing for simple evening strolls and has a fantastic nightlife and dining scene. Even if you are not a keen skier, you can enjoy a whole lot of other activities in this charming Italian town. It is one of the most remote ski towns to visit in Italy and is ideal for those who would love to venture to lesser-known destinations of Italy.
Courmayeur
Add a hint of French flair to your Italian ski holiday. Head to Courmayeur ski resort in the famous Mount Blanc or Mont Bianco as the Italian call it. Ascend the Skyway Monte Bianco for a breath-taking experience where the mountains seem to touch the sky. Snow-covered and surrounded by lush foliage, the ski resort is one of the most laidback destinations for family vacationers and adventure seekers. It is an irresistible attraction for adventure lovers to get a rush of adrenaline trying out heliskiing, snowmobiling, and skiing. Some of its piste trails rank among the most challenging in all of Europe. The extreme thrill-seekers can even venture out on ice climbing expeditions on near-vertical ice barriers. Nevertheless, there are plenty of activities for kids and mild adventurers to enjoy. A visit here is a must if you want to see beautiful sunsets, and you can also enjoy après ski and bar experiences after dusk. You can sample French and Italian cuisines at the food scene, which is a must-do.
---
---
Bardonecchia
This is another ski town edging along the French Italian border. Though not as well-known as the others mentioned in the list, it is worth checking out if you are seeking a ski resort experience with the solace of nature's bountiful beauty and uncrowded pistes. The slopes of powdery snow are welcoming to beginners and first-timers stepping out to ski. Those who enjoy steep descents can have the time of their lives on wooded slopes. There are also plenty of kid-friendly ski areas in Bardonecchia with shallow slopes meant for young adventurers who want to enjoy winter sports. There are more than 50 fantastic restaurants and diners in the ski resort offering Italian cuisine prepared from fresh alpine ingredients.
Conclusion
Italian slopes have a charm and fewer people than Swiss and French slopes, making for a peaceful yet exciting skiing experience.  These listed ski resorts are some of the best ski resorts in Italy that offer gorgeously scenic pistes, wintry ambience, and charming towns. A winter escape in Italy can be planned from November to April, which is the best time to enjoy winter sports in Italy. The winters in Italy are equally as stunning and mesmerizing as those during the summer months. With all-year-round ski destinations in Northern Italy, you can explore the snow-clad mountains and enjoy winter sports anytime you visit Italy.
---
---