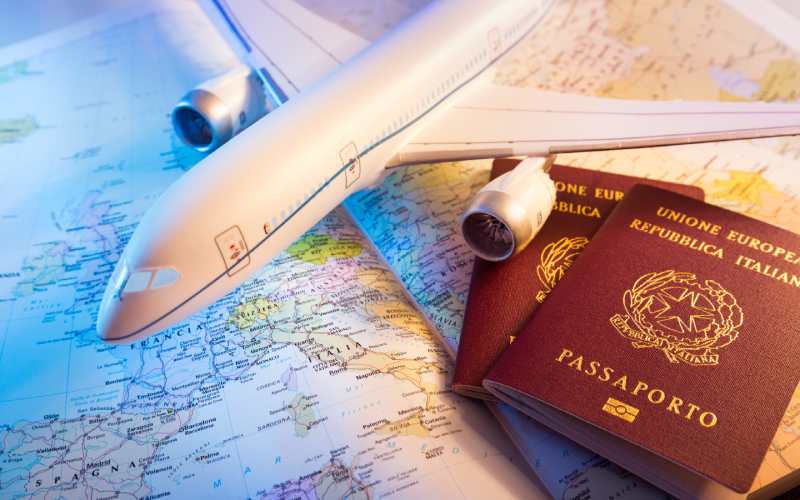 Planning a trip to the land of pasta, art, and history? Italy welcomes visitors with open arms, but navigating its visa policy can be confusing. Fear not! In this exclusive guide, we will uncover Italy's visa policy. In the later section of the article, we have also discussed some of the popular types of Italy visas.
So whether you are a tourist curious to explore the ancient ruins of Italy or want to sip espresso in a nice traditional Italian café, we have got you covered.
So, let's dive in and ensure your Italian adventure starts smoothly!
Important Things to Keep in Mind Before Applying for Any Italy Visa Policy
Before applying for any Italy visa, you must understand a few requirements.
Valid passport requirement: To visit Italy, the first thing that you will require is a valid passport. Now, there are certain requirements for the passport. For instance, it should have a three-month validity prior to your date of departure from Italy.
Purpose of visit: While applying for an Italy Visit Visa, you must be very particular about your purpose of visit. This information will help the authorities determine what type of visa can be issued to you.
Types of Italy Visa
1. Schengen Visa (Uniform Schengen Visa – USV)
You also have the option to apply for a Uniform Schengen Visa (USV) if you are traveling to Italy. The permit allows you to stay in Italy for 90 days with a 6 months validity.
Want to visit neighboring countries within the Schengen area? No worries, the USV visa is here to help you. For this reason, you can easily visit other countries around the area without border checks.
With the USV, individuals get to stay in Italy for a maximum of 90 days within a 6-month period. But note that this time duration also includes stay within the Schengen Area and is not just limited to Italy. Simply put, you can also visit other countries within the area within the 90-day period.
After that time duration is over, you must immediately leave the Schengen Area or apply for a different type of visa that allows longer days.
2. Limited Territorial Validity (LTV) Visas
Now let us discuss Limited Territorial Validity (LTV) visas. This specific visa allows you to travel within a single Schengen state or, in certain cases, 4-to 5 designated states. Simply put, with an LTV visa, you can only visit Italy and some other areas within the territory of the states issued by the visa.
Generally, LTV visas are issued for tourists for emergency situations or when there are certain limitations or restrictions on your travel capabilities. The number of days you can stay and the territorial limitations depend on the country and the specific terms of the visa.
Mostly, LTV visas have a shorter validity period compared to the other visas. Also, you must adhere to the various terms and conditions set by the issuing state (in this case, Italy).
3. Long Sojourn or National Visa (NV)
Long Sojourn might be a new term to you. But this is also a type of Italy visa.
The main feature of this visa is that it is an extended visa and you can use it for tourism study or other non-permanent purposes.
You can also apply for a National Visa which is popularly known as a Type D visa. It is usually issued to individuals who have to stay in Italy for longer durations for purposes like family union, work, and study.
It grants entry and residency for a specific purpose and duration, often exceeding 90 days.
To obtain a Type D Visa, applicants must demonstrate eligibility, fulfill requirements, and follow a formal application process at an Italian consulate or embassy in their home country.
Other Types of Italy
Student Visa
Work Visa
Family Reunion visa
Entrepreneur Visa\
Artist Visa
Research Visa
Medical Treatment Visa
Required Documents for An Italy Visa
Here is a list of documents that you must submit for getting any Italy visa:
A completed application form
A valid passport
Recent photographs
Flight itinerary
Proof of travel insurance
Proof of accommodation
Financial documents
Eligibility Criteria for any Italy Visa
To be eligible for any Italy visa, you must offer a valid reason for your visit. This can include tourism, medical treatment, business, or studies. You also need to demonstrate proof of sufficient financial means that cover your stay.
You must also offer other documents like valid travel insurance and provide evidence of your accommodation arrangement.
Steps to Apply for any Italy Visa
Before applying for an Italy visa, go through these steps carefully:
1. Researching visa requirements and types
When you understand the requirements, you will easily get to understand the type of visa you require. Simply put, you will understand whether you require a Schengen visa for short stays or a National Visa for longer visits.
 2. Completing the application form accurately
Now you need to visit the Italian embassy website of your country. Search for the application form and download it. Did you know that you can also fill out the application online on this website itself?
If you want, you can also fill out the application online. Just make sure you provide all the correct information.
3. Gathering necessary documentation
Once you have downloaded the application form the next step is to gather all the necessary documents required for your Italy visa application. This will include your passport, visa, photograph, financial documentation, etc.
4. Booking appointments at the embassy/consulate
Now you have to schedule an appointment where an embassy executive will be interviewing you. You can pre-book the date from the official website. Just make sure that you book the date a couple of weeks before your date of departure.
5. Paying the visa fee
Different visas have different visa charges. So visit the official website of the Italian embassy or consulate to learn about these charges and the method of payment that is allowed.
6. Submitting the application and required documents
If you are manually submitting the application you have to visit the embassy with the application and all the necessary documents. You may also be called later for an interview round.
7. Tracking the status of the application
Now you are done submitting the application and all the formalities are over. Once you submit the form you will get a token number which you must store carefully. You can use it later to track the status of your Italy visa application.
Tips For a Hassle-free Italy Visa Application
Check out these tips for a successful visa application:
Understand the requirements: Learn about the specific Visa requirements and the eligibility criteria for Italy.
Prepare all necessary documents: Make sure that you have all updated documents in hand.
Follow instructions carefully: Before filling out the application form and uploading the documents, pay close attention to the details like photo size specification, payment methods, etc.
Be honest and accurate: Be truthful and offer accurate information in your application form.
Demonstrate strong ties to your home country: Always carry evidence that can verify your connection with your home country, like employment or property papers, etc.
Pay attention to language proficiency: Improve your English spoken skills to communicate easily during interviews.
Conclusion
So there you have it. We have discussed in detail all the types of Italy visas available for different purposes. Understanding the requirements and policies of the USV, LTV, and the national visa will be pretty helpful when you are traveling to Italy.