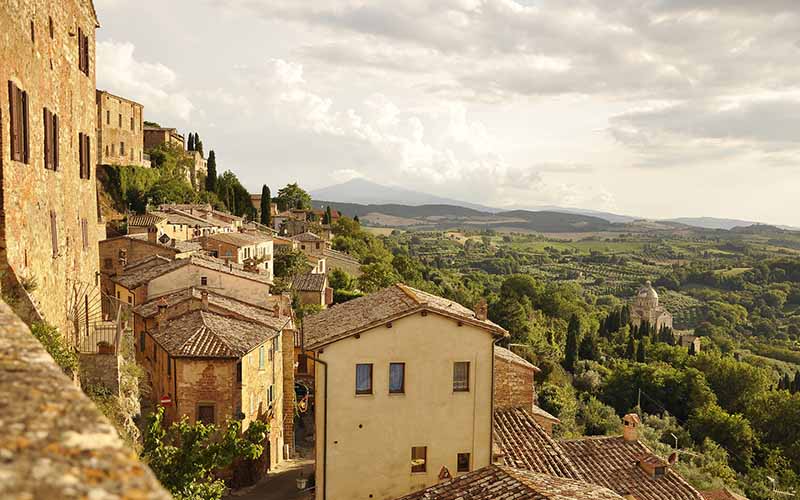 Tuscany is a gorgeous central Italian destination with superb natural vistas and mind-blowing attractions. Scenic hilltop towns, medieval cities, delectable wine & cuisine, world-famous art culture, spectacular coastlines, and idyllic countryside are synonymous with Tuscany. Florence, the unofficial capital, is also the biggest Tuscan city. Other major cities in Tuscany include Arezzo, Livorno, Lucca, Pisa, and Siena. Explore these best things to do in Tuscany to make your Italian getaways special.
Explore the Cultural Capital of Tuscany
Volterra is blessed with scenic hilltop towns, an impressive main square, historic cobbled streets, and amazing masterpieces highlighting the Etruscan heritage making it the cultural capital of Tuscany. Exploring the art of alabaster through one of its workshops features among the best things to do in Tuscany. The art of alabaster is an ancient artisanal tradition kept alive and kicking through these workshops.
Imbibe on a Truffle Hunting Tour
Truffles refer to the local lifestyle of the people in rural areas such as Casentino, Crete Senesi, and San Miniato. Italian truffles hunting has featured in the UNESCO cultural heritage list. Enjoying a heritage visit to these rural areas can teach you much about Italian culture and heritage. This unique experience easily features among the best things to do in Tuscany that will be cherished lifelong.
Driving through Tuscany's Iconic Landscapes
If you have ever wondered about exploring a postcard-type destination, then the gently rolling hills, silvery olive groves, and golden fields have played a key role in defining such artistic destinations. Several generations of tourists and filmmakers are attracted by its infinite natural beauty. You never can get enough of it. It is so pleasing to the eye. Driving down these country roads is easily among the best things to do in Tuscany. Stop over at a local farmhouse, where you enjoy a round of fresh and clean air along with savoring local delicacies that tantalize your taste buds. The northern areas of Lunigiana are Garfagnana and have mountainous terrain, whereas the Maremma region in the south features exotic beaches. The Val d'Orcia region's landscape is decorated with cypress trees and vineyards, making up for an exciting drive.
---
---
Visit an Art Exhibition in Florence.
Florence is one of the top Italian destinations with a rich history and culture of art and sculptures. The famous Uffizi Gallery and Accademia Gallery are dedicated destinations housing several Renaissance masterpieces. Popular destinations like Museo del Novecento or Palazzo Strozzi also exhibit famous artwork from contemporary artists. Not forget the Pitti Palace, which hosts special events for art lovers. Florence is considered the cradle of art in the Western World, and each palace, museum, cloister, and church have several masterpieces dominated during the Renaissance period.
Enroll in an Italian Cooking Class
Traditional Italian recipes have no magic tricks, but they are often represented that way. Enroll in one of the cooking classes in Tuscany that are gaining more popularity in the last decade as organic and healthy living and lifestyle is taking prominence in big cities. The recipes here are prepared using fresh ingredients, and you can co-create these recipes in your own kitchen back home by seeing an experienced chef at work. These are traditional recipes that are best experienced and learned first-hand.
Reconnect with Nature with Hiking Adventures
The Tuscan forests provide the perfect atmosphere for a round of hiking and exploration. The forests are filled with artistic natural scenery and are a great way to reconnect with nature. The Foreste Casentinesi National Park offers a unique, offbeat experience connecting with nature. Discover secluded monasteries hidden among the gigantic trees and ancient woods, and breathe in fresh and clean air as you move up to the Apuan Alps, one of the signature destinations for hiking in Tuscany. You can also try walking the scenic regions of Siena and Via Francigena in the Val d'Orcia.
Explore the Renaissance Architecture in Florence
Florence is not only a place to admire spectacular artwork, but it is also the inception of where Renaissance began. This beautiful town gave birth to the greatest masterpieces on earth. There are several iconic Cathedrals, Museums, and magnificent churches that are stuffed with frescoes and plenty of awe-inspiring stuff, making it one of the top attractions of Tuscany. Don't miss the Pizza del Campo, the medieval walls surrounding the city center, and the Leaning Tower of Pisa, which has been a huge hit among the tourist population and is among the top attractions of Tuscany that you should not even think of missing out.
Savor Delicious Traditional Recipes
If wine can make you feel exotic, tasting local delicacies and recipes will take the overall experience to another level. Classical, traditional dishes are best tasted with a glass of Chianti Classico to keep your gastronomical juices kicking and coming alive. Gastronomical experiences are a serious business here. Locally sourced and fresh ingredients are used to prepare the recipes at many family-run restaurants and cafes. Tasting local delicacies at authentic restaurants can turn out to be the highlight of your Italian holiday.
Explore the Timeless Beauty of the Medieval Towns
The rhythm of life is slow and gentle in the medieval towns of Tuscany that have not changed for centuries, making it a perfect destination for some inner peace and tranquillity. The ancient walled towns feature several towers and stone alleys. You discover a new world as you go back in time when you step into the gates of Volterra or San Gimignano. Several hidden treasures are vying for the attention of the tourist population that can easily give stiff competition to the modern attractions of Tuscany.
---
---
Taste Delicious Wine in a Tuscan Winery
There is no doubt that Tuscany is a wine mecca. The birthplace of the finest Italian wines has a rich viticultural tradition and history that dates to the Roman era. The Chianti region is nestled between beautiful vineyards where you can taste world-famous red wines such as Brunello di Montalcino and Chianti Classico. Deep dive into the wine culture and understand the rich cultural heritage associated with this amazing drink. Many wine tours are arranged for tourists and visitors frequently throughout Tuscany, making it among the best things to do in Tuscany.
Insider Tips for Exploring the Best of Tuscany
Plan your Tuscany vacation, giving you ample time to explore each destination. Try to combine museums and hilltop towns to offer you the best holiday experience.
Research well before you imbibe on a wine tour, as the opening and closing times may be very dynamic. The wine tours are a great way to rejuvenate and recharge your batteries as you dive deep to discover the secrets behind Tuscan winemaking.
Rent a car if you wish to travel around the countryside as the remote regions are not well connected with public transport.
Get ready to explore and experience your own Tuscan adventure. Know more about how to experience a truly memorable Tuscany vacation.
---
---