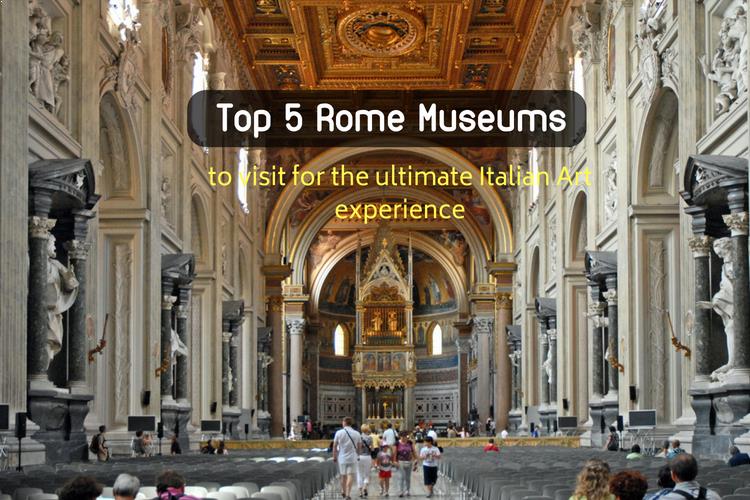 Rome is a paradise for art and history lovers. While visiting Rome, one feels like they are strolling through an alfresco museum.
But what you see around the city gives only a glimpse of Rome's fascination in art.  Rome is home to a plethora of museums, all of which are stunning architectural marvels as well. While you are wandering around in Rome and you come across any of the below-given museums, we suggest that you take out some time for a visit as this Italian experience will leave a lasting impression on your mind.
Best Museums to Visit in Rome
1.Vatican Museum
One of the main places to visit in Rome is the Vatican City. Within this miniature city, among its fascinating sights stands the Vatican Museum. Founded way back in the 16th century, the museum is renowned for its extensive collection of world-class arts, sculptures, and archaeology. The museum in itself is an epitome of grandeur and consists of two palaces and three courtyards. The interiors have grand halls and numerous lavish galleries that houses some of the most priceless exhibits curated from around the globe. The museum proudly showcases a collection from the ancient era, Renaissance years and present-day art scenarios. Sprawling over 5 hectares of land, the Vatican Museum is quite impossible to cover in a day or two. However, the highlights of the museum – The Sistine Chapel fresco by Michelangelo and Stanze di Raffaello decorated by Raphael are not to be missed attractions of Vatican Museum.
Operational hours: From Monday to Saturday: 9.00 am to 6.00 pm. Every last Sunday of the month: 9.00 am to 2.00 pm.
Admission Cost: Full Entry Ticket – EUR17 per person.
2.Galleria Borghese
Set within the stunning Villa Borghese Pinciana surrounded by beautiful Villa Borghese Gardens, Galleria Borghese is yet another famous thing to do in Rome. Considered to be the greatest museum of Rome, you will come across some of the magnificent collections of Roman, Baroque and Renaissance era. Galleries include invaluable works of Bernini, Caravaggio, Raphael, and Titian. The museum came into existence with Cardinal Scipione Borghese's fervor for art back in the early 15th century. The museum consists of 20 rooms that are home to an assemblage of timeless Italian sculptures, mosaic art, and frescos. Since there is a limit on the number of visitors visiting the museum in a day, tickets need to be pre-booked to avoid disappointments during the trip.
Operational hours: From Tuesday to Sunday: 9.00 am to 7.00 pm. Last Entry at 5.00 pm. Maximum 360 people are allowed at a time for two hour visit.
Admission Cost: EUR 15 per person
---
---
3.MAXXI Museum
Amid the Roman old world charms, MAXXI Museum shines out with classy vibes. Dedicated to contemporary art, MAXXI Museum is first of its kind museum in Italy. Also known as the National Museum of 21st Century Arts, the museum focuses on contemporary exhibits, installations, workshops and cultural experimentation. Located in Flaminio District in Rome, this state of the art structure built by Anglo – Iraqi architect Zaha Hadid is a nod to avant-gardism. The modern structure has a stylish architecture and looks simple from the outside. It is built in such a way that natural light will be ever-present. The interiors transform into a series of sleek, labyrinth-like stairways and alleys, and curving walls that reveal the complexity of the design. The museum features work by notable Italian and International artists, architects and photographers and has rapidly become one of the must-see attractions in Rome.
Operational hours: Tuesday through Friday and Sunday: 11.00 am to 7.00 pm. Saturday: 11.00 am to 10.00 pm. Monday: Closed
Admission Cost: EUR 12 per person. Child under 14 years: Free of Cost
---
---
4.Capitoline Museums
Nestled on Capitoline Hill, the Piazza del Campidoglio is a stunning piazza designed by Michelangelo Buonarroti. This sprawling precinct is home to three buildings namely Palazzo Senatorio, Palazzo dei Conservatori, and Palazzo Nuovo that are converted into museums which are jointly known as the Capitoline Museums. It is considered to be the oldest public museum in the world, its origin traced back to 14th century.  The collection mostly features ancient Roman relics, Renaissance art, and sculptures with some elements of Greek and Egyptian art. You will be awestruck by mammoth figurines of a giant hand, foot, and head that were once part of a giant statue of Constantine. Other highlights include Lupa Capitolina, Spinario, and Gian Lorenzo Bernini's Medusa. The galleries include works of Caravaggio and other notable Italian artists.
Operational hours: Daily from 9.30 am to 7.30 pm
Admission Cost: EUR 15 per person.
5.National Gallery of Ancient Art of Barberini Palace
One of the famous Rome museums that houses a significant collection of paintings – the National Gallery of Ancient Art of Barberini Palace is an attraction every art lover would fall in love with. This 17th century baroque palace turned museum is located in Rione Trevi and is home to breathtaking paintings such as Raphael's La Fornarina, Caravaggio's Judith and  Holofernes, Hans Holbein portrait of Henry VIII and Madonna and Child by Filippo Lippi to name a few. This Rome attraction is famous for its architecture as well since it is shaped by three well-known architects of Roman era – Carlo Maderno, Francesco Borromini and Gian Lorenzo Bernini, all of whom have added their distinct touches of creativity to the structure. Don't miss the intricately painted frescos, 'Triumph of Divine Providence' by Pietro da Cortona and The Triumph of Divine Wisdom by Andrea Sacchi while you are touring the museum.
Operational hours: Tuesday to Sunday: 8.30 am to 7 pm
Admission Cost: EUR 12 per person.
---
---
A great way to understand Rome's rich history and heritage, these museums in Rome lets you appreciate art in its exemplary form.  The stunning  sculptures, life-like paintings, intricately painted frescos, murals, mosaic, and magnificent buildings all make it possible to believe in the saying 'Rome was not built in a day.' And definitely, Rome cannot be visited in one day either! Rome is filled with many artistic gems scattered all over the city that it can become quite overwhelming to decide what to see in Rome and which museums to visit on a Roman holiday. These recommendations are mere handful selections that will assure you to get an absolute Roman experience. So, next time you apply for Italy tourist visa and wondering what to do in Rome, add few of these Rome museums along with your favourite Rome tourist attractions for a lovely time in Rome.