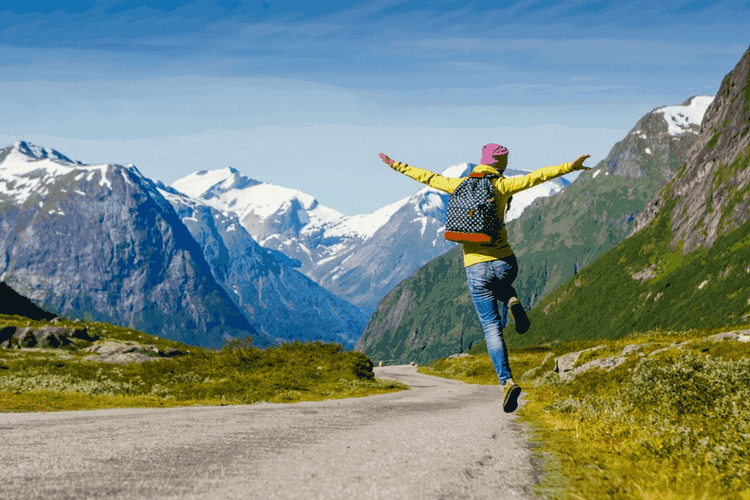 Many people are forfeiting vacations due to extreme stress, work pressure, anxiety, and other negative effects. Our daily routine does not permit a healthy lifestyle and breaking yourself away from the shackles of your daily life has become a necessity rather than a choice.
Travel benefits not only help you to recharge your batteries, they also help in enhancing your moods, productivity, and work performance. Avoiding a break from wok can lead to stress overload, which can seriously have damaging effects on your health over the long run. Vacations offer you the environments to relax and rejuvenate your senses – body, mind, and soul. Just by taking a break for namesake is not the solution because traveling is not about just the destination, it is about the journey. Travel for health by immersing yourself in the new environments that also helps you in boosting your mental health. We have listed some healthy travel tips which would help you to rejuvenate your senses and indulge in a stress-free getaway.
Benefits of Travelling:
Exposure to different environments which boosts your immunity power significantly
One of the key travel health benefits includes a boost to your immunity power. Antibodies protect your immune system from harmful pathogens. Exposure to new environments helps your body to adapt and build a stronger immune system. Many travel experts have proclaimed that travel is the best probiotic. A new environment not only refreshes your mind, it also cleanses your body and builds a stronger inner self.
Travel helps bring down stress levels
This is definitely not a big surprise as visiting new environments does refresh your body, mind, and soul and helps you relax. There have been scientific convictions to prove the same. The after-effects of a holiday last for weeks depending on the fun you had during your vacation. One of the essential features of a vacation.
Also Read -> Spa Wellness Centers in Italy that'll Rejuvenate your Mind, Body, and Soul
Traveling makes you fitter
When you are sitting on a chair and working on your laptop or driving for hours to reach home, you face tremendous stress levels. In addition, the work pressure doesn't permit you to relax and you got to be constantly fired up and focused on your work. Adapting to new environments and new locations help your mind be mores calm and composed and refresh your senses. During a holiday, you most likely to be more active – either by shopping, playing, walking in comparison to when you are back home.
Travel plays a significant role in your brain health
Traveling helps expand your mind. As you meet new people in new environments and situations, you become more culturally and globally aware of things around. With these new experiences, your cognitive flexibility increases and helps in keeping your mind sharp. Your mind becomes more creative and you appreciate new cultures which are essential for your personal growth and emotional stability.
Traveling helps reduce the risk of a heart disease
The stress and anxiety levels do significantly come down when you head for a vacation. Due to reduced tension and stress levels, your heart is healthier than the daily routine it follows. A relaxed environment helps in keeping a healthy heart and thus significantly reduces the risk of heart diseases.
Many places are blessed with healing properties
There are several natural heating spots such as hot springs which draw characteristics from the earth's healing powers. Soaking in the environments itself can revitalize your skin, bring down stress levels, release pain and pressure, and increase longevity. So if you are also searching for inner peace at several sacred properties, your mind becomes peaceful and composed.
Live a longer life with traveling
Scientific studies and research have proved that travel helps keep a body healthier inside and out, and boosts brain health. With a healthier body, mind, and soul, you are definitely in for a longer life. Vacations play a vital role in increasing your life expectancy.
Increase your empathy and recharge emotionally
What makes you happier on a vacation? Checking our exotic locations and meeting new people reduces tension and stress levels, and thus helps you emotionally recharge yourself and reconnect with your current environment. Facing the same environment on a daily basis increases frustration levels in your body and which doesn't work in favor of a healthy lifestyle.
Rest up and wind down
Your cognitive performance and efficiency increase significantly post your vacation. There have been scientific studies and researchers who have proved this fact. Your body gets the much-needed sleep and rest it deserves. Something which it has been deprived up during your busy daily life. Reserve that time to rest your body and feel energized post your vacation.
Boost your mind power and health
Many survey and studies have proved that traveling plays a significant role in improving our emotional state. There is no doubt that every person who comes post a vacation is happier and calmer for weeks than before. Taking out time for yourself and your loved ones help reduce the release of stress hormones in our body. These stress hormones when released degrades our physical and mental health.
No matter where you go and what you do on your vacation. A stress-free period is essential in your busy and hectic life. If provided at regular intervals, you are definitely bound to have a happier and calmer physical and mental health.
---
---