Well, while most of Italy is known for pizza, pasta, and loads of wine, the country offers all the art, history, and architecture that every explorer is curious to explore. The different parts of Italy display the incredible arts produced by artists from various regions, while the unique streets with beautiful scenery capture the visitors' hearts. The country is also known for its opera, food, language, fashion, and, of course, luxury brands. So whether you are a history buff or a fashion or food lover, Italy has everything for you. Get to explore these best outdoor activities in Italy.
Fun Things to Do in Italy's Outdoors
1. Climb up the famous Dolomites
Hiking in Italy is a great idea. The Dolomites, a UNESCO World Heritage Site, are an adventurer's best friend. You can snowboard, raft, kayak, mountain bike, cycle, and do much more, among other things, in these rugged mountains. Here, the hiking is made up of numerous trails, which can be as easy as you want or difficult to challenge yourself on, but one of the most accessible adventures in the Dolomites is good ol' walking. If you want to spice things up, try venturing through the via ferrata, wildly known as the iron way, the initial World War I mountain routes packed with bridges, iron cables, and ladders.
More about the Dolomites: The Dolomites are a series of mountain ranges located in the Italian Alps, also known as the Pale Mountains. Its name suggests the existence of carbonate rock dolomite that covers most of the mountains. The mountains are embraced by 18 peaks that tower more than 3000 meters above sea level. It is also home to numerous glaciers and a diverse range of flora and fauna.
2. Go scuba diving and discover the sunken city of Baia 
If you are fond of scuba diving, then you can't afford to miss this outdoor activity in Italy. Nestled just near Napoli, the Parco Sommerso di Baia is a sunken or flooded city found south of Rome. While most scuba diving is experienced to explore the underwater world teeming with marine life, here you get to explore the buildings and statues that are still intact today. It is one of the most beautiful yet mysterious hidden gems of Italy, where you will be wowed by the pillars and mosaic floors of ancient villas owned by emperors.
More about the Sunken City of Baia: Baia, an ancient Roman city, was wholly poured over by the bradyseism phenomenon. It is a hidden gem of Italy and was once the Las Vegas of the Roman Empire—basically a resort town located just 30 km from Naples. It was also the place where wealthy and powerful Netizens came to carry out their proscribed concerns.
3. Venture through the caves in Le Marche
One of the most popular outdoor attractions in Italy, Le Marche is home to some of the most stunning caves in the country. Frasassi Caves, also known as Grotte di Frasassi, are one of the largest known cave systems in Europe. In fact, this place of underground caves can fit the 5th largest church in the world, which is the Duomo di Milano. It is also one of the world's deepest cave systems, where you get to witness the breathtaking sights of stalagmites and stalactites dotted throughout the massive caverns. If you opt for a guided tour, it may take about an hour.
More About Le Marche: located in the municipality of Genga, caverns in Le Marche were first discovered in 1971 and weren't published until 1974. Today, these caverns are open all year and offer guided tours to explore their serenity. One of the most popular spots on the tour is the Ancona Abyss, which is vaulted with 200-meter ceilings.
4. Enjoy cycling in Tuscany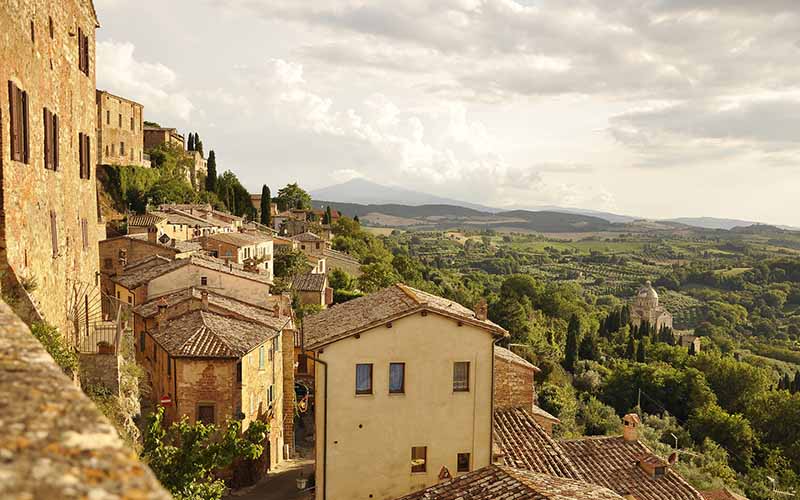 Tuscany is a wonderful region of Italy, offering sun-kissed hills, and small, tranquil cities, making it a perfect spot to enjoy cycling. Visitors love to cycle through the streets of Tuscany. You can either take a wine tour by bike or explore alone to witness the UNESCO world heritage cities, including San Gimignano, Pienza, Florence, and more. If you are looking for something easy, head to the path along the Adige River, which runs from the Austrian border to Verona, connecting major cities like Verona, Venice, Mantua, and Lago di Garda. You can choose from various picturesque road trips in Italy.
More about Tuscany: There are numerous fun things to do in Tuscany, but visitors often love to explore the countryside, which offers much-needed relaxation from the bustling routines of life. The region holds thousands of years of a multitude of art periods, each of which has its own fascinating history and significance to the culture.
5. Experience skiing in Val d'Aosta
For those who crave extreme adventures, experience skiing in Val d'Aosta at 3500 meters of altitude. It is one of the highest mountain skiing resorts in Italy and also one of the most popular skiing locations. The place lists among the first mountains to welcome snow and the last to end the season, making it the perfect place to enjoy skiing.
More About Val d' Aosta: Val d' Aosta, or Valle d' Aosta, is the smallest and least populated Italian region located in the northwest of Italy and bordering France and Switzerland. It houses some of the highest peaks in the Alps, including Monte Bianco. It is also a well-known home to some of the best ski resorts in Italy, where visitors flock to enjoy the snow and experience world-class skiing. And if visitors opt to explore Val d' Aosta in summer, the mountains get even more beautiful, attracting them almost all year long.'
Essential Travel Tips to Italy
-Be mentally prepared for traveling on public transportation.
-Know the Italy visa requirements beforehand and apply at least two weeks before the arrival date.
-Visit the pretty small towns in Italy for real exposure.
-Learn a few common words in the local language to make conversations easier.
-Wear comfortable shoes as you may have to walk and wait in the long queues around attractions.
Conclusion
Italy is a worldwide famous destination that lures everyone from wanderers to even top celebrities. You will find a lifestyle that not only appreciates and respects art and culture but also a place that adopts a slower pace of life while exploring and enjoying it with family and friends. If you are looking for a mix of culture and adventure, Italy is the perfect spot for you, and these top spots are enough to fill your vacation with culture and thrills.