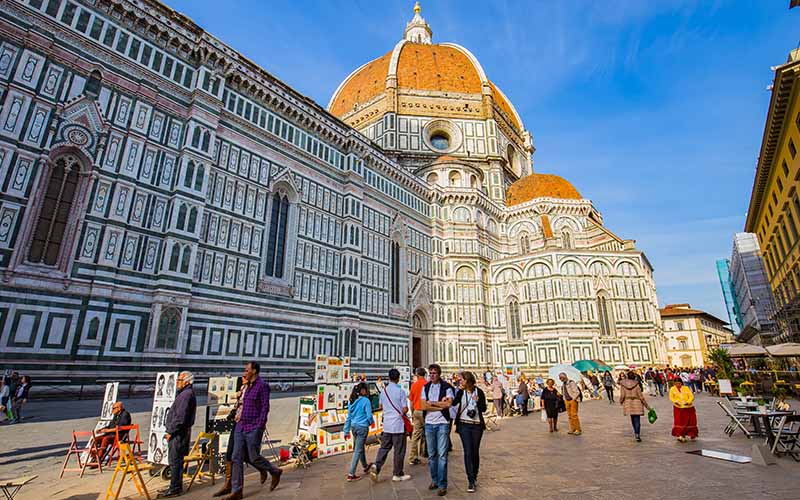 July is the height of summer in Italy.
Schools are out, sun is shining brightly, and people begin to plan their vacations.
Weekends are spent at the beach, evenings are spent outside, and the sun becomes an enemy: July in Italy is a time for the shaded terraces & al fresco dining, and not sightseeing under the scorching sun!
Why Visit Italy in July?
Traveling to Italy in July means spending immense time under the sun that is best should you plan to visit beaches. It also means you will have to deal with larger crowds (that is not always a bad thing if you are prepared) and higher prices (generally not good news). It becomes more difficult to get quiet spots that are away from crowds in July. However, if you book museum tickets in advance, you won't have to wait in the hourly lines in front of Vatican Museums/the Uffizi Gallery. Prices for things like airfare and hotel rooms will be higher, yet again, planning ahead will keep you against being stuck with only the most expensive rooms.
In general, if you are on a tight budget, the summer months in Italy is a difficult nut to crack. Sometimes you can save money by avoiding the larger resorts, but this is difficult in midsummer. The truth is that July month in Italy can be a good option for you provided your travel budget is not the main constraint, if you don't mind being surrounded by crowds, and if you enjoy hot climates. Again, plan and reserve as much as possible in advance to avoid lines, stay hydrated and shaded from the sun, & take breaks for relaxing throughout the day. It is a long road to relax and make a July trip to Italy into a highly memorable summer.
Italy Temperature and Weather in July
Because July is a summer month, the weather in Italy in fact will most likely be hot. Though few people have experience dealing with summer, believe me when I say that summer in Italy is not the same. Staying inside during the summer is different from going outside to journey around the city during the summer in Italy. So, stay hydrated & take breaks to rest and refresh yourself in between attraction sights.
The average temperature in Italy is as follows:
Northern Italy: 64°F (18°C)
66-90°F (18-32°C) in Central Italy
74-90°F (24-32°C) in Southern Italy
---
---
Best Places to Visit in Italy in July 2023
1. Cinque Terre
July in Italy is ideal for summer road trips via one of the country's most picturesque regions, the Cinque Terre. Stop in each city to explore the cobblestone streets & find the best views of the coastline. People watch the sunset from the coffee shop or at the time of drinking an ice cold beer. Take a stroll via the famous Cinque Terre National Park, which is one of Italy's smallest but most beautiful, or go hiking on the Monterosso Trail. Take a boat trip from San Francesco and/or simply relax near the cliffs and enjoy the scenery. If you wish to explore coasts in peace and quiet, you can stay in the various cities.
2. Italian Lakes
July is also an excellent time to see the Italian lakes. Both Lake Garda & Lake Como are gorgeous at this time of year, providing respite from the city heat, and these are just the two most well-known! When visiting lakes in July, you can go boating, sunbathing, and possibly swimming (depending on where you go): just be cautious if visiting on weekends, as they are standard day trips from the cities and can get very crowded.
3. Sicily
If you wish to spend your vacation by the sea and sun, Sicily is ideal in July. Because of the soaring temperature and relentless sun, sightseeing at archaeological sites may be difficult at this time, yet all experiences along waters will be pleasant, and you can still plan some excursions early in the day. Here are few exciting things to do & see in Sicily in July:
Day trip to a beautiful island of Lipari and Vulcano – a fantastic way to visit some of Sicily's most beautiful smaller islands.
Etna region's wine tours – a fun way of tasting the wines from the unique volcanic surrounding.
Palermo evening food trip – a great way to enjoy Sicily's mouthwatering culinary tradition during the cooler hours of the day.
4. Sardinia
This happy island in the Mediterranean Sea is a paradise on earth with beautiful beaches and a historical heritage that is priceless. Because natural beauty abounds throughout Sardinia, deciding on the finest places to see is nearly impossible. The Costa Smeralda is unquestionably the ideal destination for those seeking unbridled luxury and fun, while those seeking heavenly landscapes should visit the La Maddalena Archipelago, a collection of beautiful islands safeguarded as nature reserves.
5. Gargano
Gargano is a beautiful promontory in Northern Puglia that is surrounded by the Adriatic Sea on three sides. This National Park is popular with hikers because of its dense forest (called "Foresta Umbra"), rocky cliffs, and scenic spots. Aside from exploring the park's many trekking trails, you should also visit the archaeological remains, which include a Christian necropolis. Another interesting location is the wetland adjacent Salso Lake that is a WWF-protected oasis that is home to many local birds. In the summer months, there is a full calendar of events & guided tours to help you learn more about this ecosystem.
Italy Top Events in July
Palio di Siena. The horse race takes place every year on July 2nd (and again on August 16th) in the Tuscan city of Siena. It consists of four days of horse racing & events within the city square, as well as a large audience's celebration.
Festival of Verona Opera. Throughout the summer, nightly opera performances are held at Verona's olden Roman Arena, the world's largest such venue.
---
---
The bottom line in fact is that if the travel budget is not one's primary constraint, if they are not bothered by crowds, and if they enjoy warm weather, July in Italy could be a great option for them. Again, plan and book as much as possible ahead of time to keep away waiting in lines, remain hydrated and sun-protected, and take breaks to recover throughout the day. Taking it slowly helps a lot and can make a trip to Italy in July a truly memorable summer.
---
---