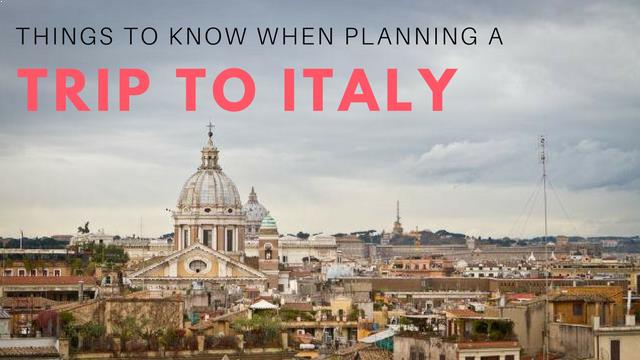 Did you just think about planning a trip to Italy, the front runner in European tourism? Italy is the one nation that can single-handedly bear the weight of all tourism in Europe.
Blessed with a long Mediterranean coastline, it is the most charming destination in Europe. Every place in Italy is capable of making travelers fall in love at first sight!
Tourist attractions in Italy
From Rome to Venice, places in Italy are world famous for their stunning landscape, trendy fashion and exclusive cuisines. Let's have a quick look at some of them.
1.Rome, the Capital
A visit to Rome is an inevitable part of your Italy tours. The seat of Roman Empire of bygone eras, this city still has a lot of relics of the past. From ancient colossal structures and stunning cathedrals to Renaissance architecture, every corner of Rome has something to tell. Colosseum, the largest amphitheater that was ever built, is the pride of Rome. An amazing structure that could hold more than 50,000 spectators, built in those days when technology was unheard of! Pay a visit and you will agree, Rome was not built in a day!!
Read more about : Things to do in Rome
2.Venice, the floating paradise
A city that deserves a prominent place in every Italy trip planner, Venice is the romantic charm of Italy. It is an archipelago of over 100 small islands connected by exquisite bridges and pretty canals. Take a ride through the waters to experience Venice in all its magnificence. St. Mark's Basilica and Grand Canal in Venice are not being missed. The lively, bustling waterways have made the name Venice an icon for water-surrounded towns all over the world. Remember Venice of the East or Alappuzha that stays close to the famous Munnar hillstations, the tiny counterpart of this magnificent city, located in the other corner of the world?
Read more about : Day trips from Venice
3.Milan for fashionistas
When planning a trip to Italy, do not ignore Milan, especially if you are a fashion freak. One of the wealthiest cities of Europe, Milan is the ultimate destination for fashion lovers, designers and models alike. Milan is also home to world's largest Gothic cathedral. Walk along the streets of Milan and feel the urban cool soothing you. And who knows, you might bump into some supermodel!
---
---
4.Tuscany, all green
Tuscany, one of the best tourist attractions in Italy, is an exotic hilly destination. Abundant in olive farms, vineyards and cypress trees, Tuscany is all green as far as the eyes can see. Wine tasting in Tuscany has to be included in your Italy trip planner. Tuscany is also famous for Renaissance art forms, so grab some curios made of leather or wood. The famous Leaning Tower of Pisa is also part of Tuscan area.
5.Amalfi Coast for water views
Known for its exotic ocean views, Amalfi coast is the must visit destination for all with an inclination for oceans. Located along the Mediterranean coasts, Amalfi is an amalgamation of rocky beaches, rugged cliffs and multicolored villas and resorts. A perfect place to unwind on the waterfront with tall cliffs in the background. Mostly consisting of upscale resorts and hotels, make sure that you have your wallets full while heading here. Nevertheless, it is an integral part of all Italy tours.
---
---
Tips for planning a trip to Italy
Knowing a few things about the land where you are traversing will ease your travel. It might also save you from embarrassment caused by ignorance of local traditions.
Italy, known for culinary excellence, is made of different small regions, each of which has a regional delicacy. When ordering Italian food, make sure that you are not missing out on the typical delicacies of each place where you go.
Italians are famous for taking afternoon siestas. Don't be disappointed if you find shops with closed shutters in the afternoon. Satisfy your hunger pangs well in time.
When planning a trip to Italy, make sure to do some research on the history of the country. Italy has a history older than the Roman Empire. Mark all important places beforehand.
While traveling by trains, it is not enough to just buy tickets. You need to validate these tickets at the validation machines provided on the rail platforms. If you don't, be ready to shell out a hefty fine.
One interesting and agreeable aspect of Italians is that they consider dining as an important social activity, and not just a quick way to fill tummies. So when in restaurants in Italy, don't worry about being seated for hours. You can enjoy your food and gossips as much as you want, no unpleasant stares from passing waiters!
Now, don't you feel like touring to Italy at least once in life? Surely you will be back loaded with beautiful memories.
Author :
E Jey don't believe that he was born as a passionate traveler. In 2000, when he packed up his dreams into a backpack and moved to Kathmandu, he was learning to be a traveler. Jaunt Monkey is a lifestyle that he has developed over years.
---
---